Welcome to Cafarelli Metals
Cafarelli Metals provides metal slitting services to precision widths. We can slit your 48" wide coils or make use of your old material by slitting unused coils turning them into productive stock.
---
Cafarelli Metals Services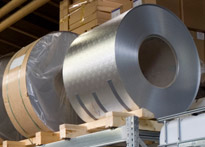 Cafarelli Metals provides metal slitting services to precision widths. All metals from .100" to .010" gauges. Toll slitting metal coils including secondary processes on-site.
Toll Slitting and Metal Slitting
Standard width coil slitting
Specialization in narrow width slitting
Reslitting Obsolete Coil Inventories
Many companies find that old obsolete coil widths when slit to usable widths become valuable resources.
Recoup metal coils and return usable widths
Recapture floor inventory
Reprocess coils to active inventory
---
Toll Slitting Capabilities
Toll Slitting services capabilities include:
Sizes from 12 ga., 14 ga., 16 ga., 20 ga., 24 ga., 26 ga., 30 ga.
Slitting all metals such as Aluminum, Steel, Stainless Steel, Painted, Brass, Copper, Brass Clad, Copper Clad and Galvanized.
48" Maximum
3/8" Minimum Slit Width
.100" - .010" Gauge

16", 20", 24" ID
Carboard Core Recoiling Available
20,000 lbs. Max Coil Cap
Narrow Width Toll Slitting
Narrow widths to 3/8" are possible. Our equipment can accept coils up to 48" wide.
Secondary Processes available on-site
Narrow width blanking.
Crop to small OD, PIW (Pounds per Inch Width)
---
Located near downtown Dallas, Cafarelli Metals is easily accessed by all the major freight lines. We serve all metroplex cities including Fort Worth, Garland, Plano, Frisco, Allen, Mckinney, Burleson, Irving, Desoto, Mansfield, Sherman, Denison, Denton, Mesquite, Carrollton, Richardson, Lewisville, Wylie, Arlington, Grand Prairie, Duncanville, Keller, Roanoake and Lancaster.